Albemarle High School Alumni Association


Classes of 1953 - 2014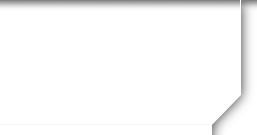 WHO'S ONLINE NOW
No registered users are online right now.
UPCOMING BIRTHDAYS

WHERE WE LIVE
Who lives where - select from the dropdown to find out.




Show Alumni on map
First Time Users - If you are one of the 21,000+ people who are fortunate enough to be graduates of Albemarle High School in Charlottesville, VA, your name shoould be listed under AHS Alumni Profiles.
To enjoy full use of this website please please find your name and update your profile and register on the website. The site is supported by the Albemarle High School Alumni Association and maintained by volunteers. It is not a commercial site, and there is no fee for use of the site and no annoying ads.
Visits To www.albmarlealumni.com since November 2010
You Are Invited to
May 9, 2014, - 6-8:00 pm


Albemarle Cafeteria
The Albemarle High School Alumni Association is hosting the third annual gathering of all Albemarle High School alumni at Another Night to Remember on May 9 at Albemarle High School.
For the last two years, hundreds of AHS graduates and friends have gathered at the school for "A Night To Remember" and we are making it an annual tradition.
A big highlight for many attendees was the gathering of classmates in the cafeteria after the program. While it's not a class reunion, it was a great chance for classmates to reconnect. The planned 45 minute "coke and cookies" event turned into two hours of smiles and memories.
Please join us on May 9 to:
Connect with your classmates
Induction of Nominees to the AHS Hall of Fame
Hear the results of the largest survey of reunion likes and dislikes that is available anywhere - the opinions of 500+ AHS grads. (more below)
Visit with Mr. Hurt and former teachers

Time to Plan Your 2014 Reunion
What Makes For A Successful AHS Class Reunion?
One class had 125 people at a recent reunion. Other, biggger classes have had less than 50 attendees. What is the difference? Read the results of the reunion survey and get some ideas for your next event. Go to the Reunion Survey link on this website. Thanks to the 475 alumni who responded to the survey.
Your Copy of the Peer Has Arrived!
We've just added Some new Peers to the Website. They are fully searchable and can be downloaded or printed. We have nearly 20 years so far - more will be coming soon.
See the 1974 and 1976 issues below.
Click here to see other issues .
---
About his English teacher, Pat Conroy, one of America's most noted authors
("The Great Santini", "Prince of Tides"), used a sentence that describes Mr. Benjamin Hurt.....
"He was the essential man in the lives of a thousand boys and girls who dwelled in the shadow of his almost unnoticeable greatness."
Order Your Copy of the 2nd Edition TODAY!
A Word From The Unforgettable
Benjamin F. Hurt......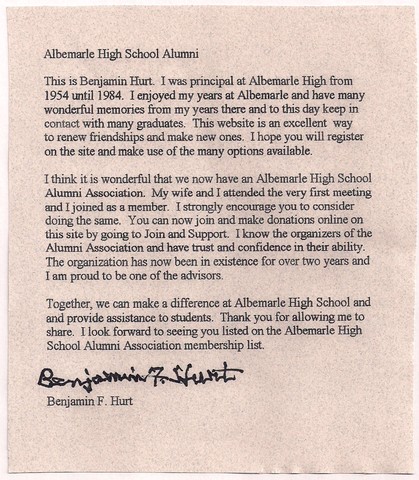 Some Ads, Articles and Pictures From Charlottesville
The website is the official site of the Albemarle High School Alumni Association and is NOT a commercial site. There are no fees or charges to register on this site and your name will not be provided to any other organizations with the exception of AHS class reunion organizers.
This site was launched in November of 2010 and is maintained by AHS Alumni Association volunteers. We are just getting our website started, so we can use your help. Here are some of the ways you can help:
Register on the website by finding your name on the AHS Alumni Profiles page
Join the AHS Alumni Association
Invite your classmates and friends to visit the site
Support the AHS Alumni Association with your donation.
Donate to the AHS Alumni Association Scholarship fund.